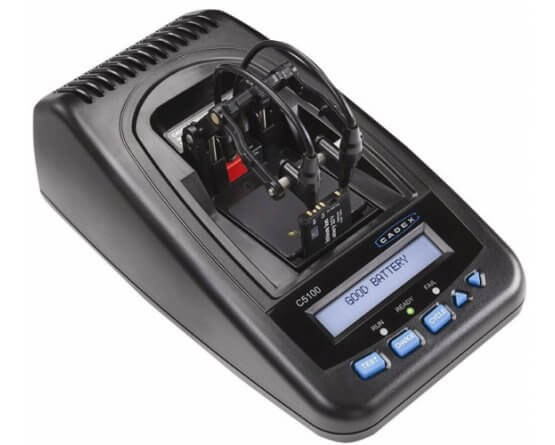 Vis:
Specifikationer
Dokumentation
Medie
Application
Single-station lithium-ion battery tester
Range
3.6V and 7.2V nominal, 2A, 8W charge and discharge. Polarity protected.
Analyzer automatically choses a lower C-rate when exceeding 2A.
Battery Adapter
Includes one adapter of your choice (e.g. RigidArm, FlexArm, or SmartConnect). Also takes SnapLock™ adapters; auto-scales when exceeding wattage/current setting. Read-only function; programmable with PC-BatteryStore™; temperature sensor. (The limited power of the C5100 may prolong service.)
QuickSort™
QS1 (600–1,500mAh), QS3 (use of Q-codes) and QS4 (generic, user-entry of voltage and mAh). QS4 services 3.6V Li-ion up to 4,000mAh with a state-of-charge of 20% and above.
Line Voltages
100-240VAC, 50/60Hz
Programs
TEST: 4 minutes QuickSort™
CHARGE: 3-hour fast charge
CYCLE: Charge/discharge/charge
BOOST: Reactivates batteries
Display
2x20, backlit; Run, Ready, Fail signal lights
Data Ports
USB, RS232 for unit upgrades
Physical
H 92mm (3.6"); W 160mm (6.3"); L 285mm (11.2"); 0.82kg (1.8lb.) net C-ABS housing
Approvals
CSA/UL/EN60950, CE mark, RoHS, WEEE
Warranty
Two (2) year material and workmanship
Forespørg produkt
Udfyld formularen for at forespørge om produktet. Kun salg til erhverv.